BattleCreek Downtown
Sundays at 9am & 11am
Join Us This Sunday
Our Downtown campus is located in a beautiful historic building in the Kendall-Whittier neighborhood just minutes east of Downtown Tulsa at 3rd and Utica Ave. Whether you're a TU student, a young professional, or a parent looking for a place to connect your family, anyone can find a place at Downtown.
Every Sunday at 9am & 11am we gather at the Downtown campus to experience Jesus through an incredible worship experience and word from our lead pastor. We can't wait to see you this Sunday!
Join our Downtown Facebook group for specific campus news, updates, and online community.
What to Expect
Whether it's your 1st time at Downtown or your 100th you'll be greeted by our friendly Hello Team when you arrive. They are here to help you find where to go, answer any questions you may have, and can even direct you to a hot cup of coffee.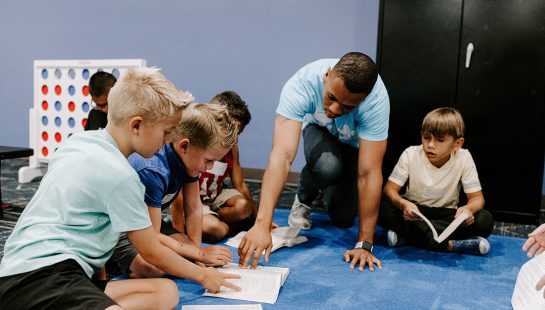 At 9am & 11am we have services in our Preschool and Elementary environments for children ages 6 weeks-5th grade. In each age group, children will experience a worship service and teaching experience geared toward their age/developmental level. Check out @battlecreek.kids Instagram page to take a peek at what we're learning this week!
On Sunday mornings at 11am our students from 6th-12th grade gather for teaching and small group time. On Wednesdays at 6pm we have our weekly student worship experience which consists of hanging out, worship, and teaching from our student minister. Follow @battlecreekstudents on Instagram to find out what's going on this week!
Frequently Asked Questions
There is free parking in the lot to the west of the building. Find a Hello Team member if you have questions as you're parking.
Can I bring my child to service?
Sure! The more the merrier. We also have an AMAZING kids experience available from children ages birth through 12 grade. There is also a mother's room for families with newborns.
What do I do if it's raining?
You are welcome to drop off passengers at the doors of our sheltered West Entrance. Alternatively, our car Hello Team can provide umbrellas on rainy days and are available to walk you to the door.